I'm excited to announce our BIG 4th OF JULY SPECIAL OFFER: Get PivotBoss Masters Training by July 7 and Receive 3 Months of our Premium Trading Room – FREE! ($297 VALUE)
With summer time trading and the 4th of July upon us, perhaps there's no better time to improve your skills as a trader than now.
If you're new to trading, and looking for quality training that you can trust, then look no further than PivotBoss Masters. If you're a trader struggling with consistency, trade location, or trade management, then you owe it to yourself to improve your skillset before you place your next trade.
PivotBoss Masters offers unparalleled training and support for anyone who wants to become a skilled trader. Not only will you receive our highly-acclaimed training, but you'll also receive 3 months access to our trading room so that you can experience the live application of our concepts and techniques in the market.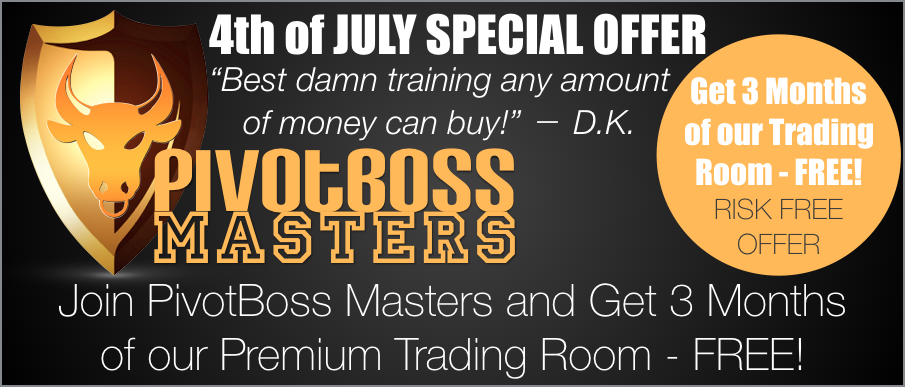 PivotBoss Masters offers:
Core and Proprietary Training: designed to help you analyze any market in any timeframe so you can find and trade high probability opportunities
Proprietary Indicators and Tools: for multiple platforms (including NinjaTrader, Thinkorswim, Investor/RT, and OmniTrader) that are designed to help you identify great trading opportunities in all markets
Chart Gallery: includes hundreds of annotated charts that will help you get up to speed quickly with our concepts and techniques
Lifetime Access: Pay once for PivotBoss Masters, AND RECEIVE ALL FUTURE TRAINING (INCLUDING LIVE SESSIONS) AT NO ADDITIONAL COST!
100% Money-Back Guarantee: We offer a risk-free, 30-Day money-back guarantee
SPECIAL OFFER:

Join PivotBoss Masters by July 7 and Receive 3 Months of our Premium Trading Room – FREE! ($297 Value)
There's no better time to be a part of PivotBoss Masters. I hope to see you in our trading room soon!
Cheers!
Frank Ochoa, AKA PivotBoss
Author, Secrets of a Pivot Boss